Dirt work has commenced on the Cripplegate Field upgrade. Come to tomorrow's Open House at TMP-M to check this project out and much more, including the new weight room and 3rd floor classrooms. The July 19 Open House is come-and-go from 5:30-7:30 p.m., and all are welcome!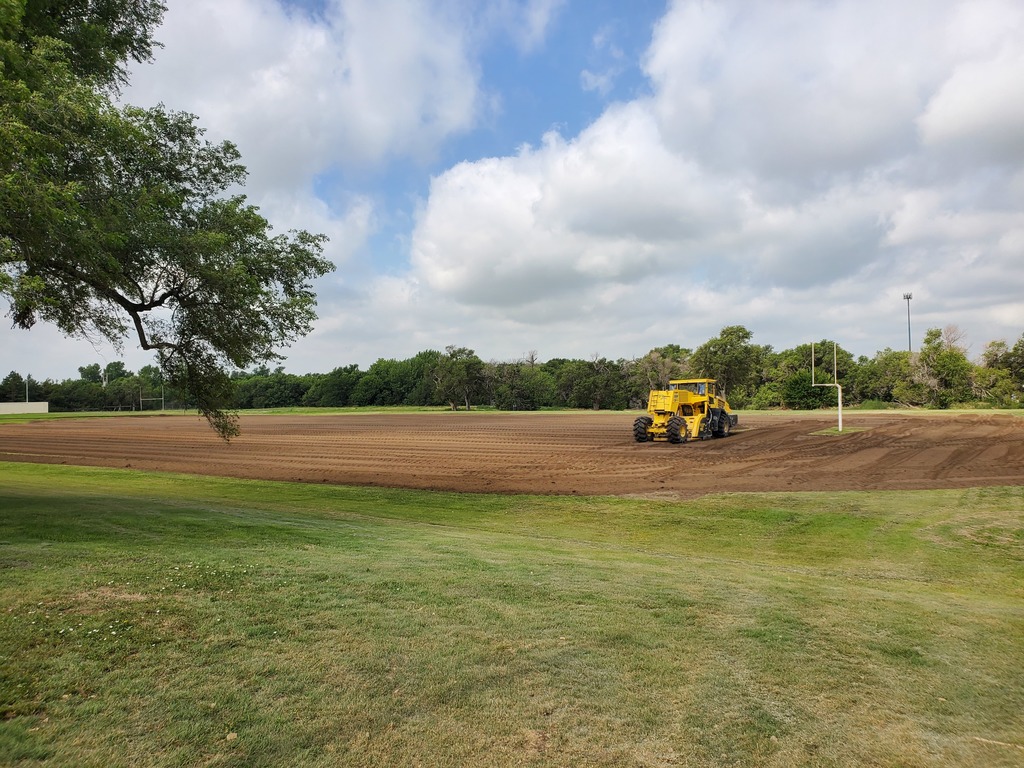 Monarch For a Day is Coming on Jan. 13. Any 5th-8th grade student interested in learning more about Thomas More Prep-Marian is invited! Please share with potentially interested families!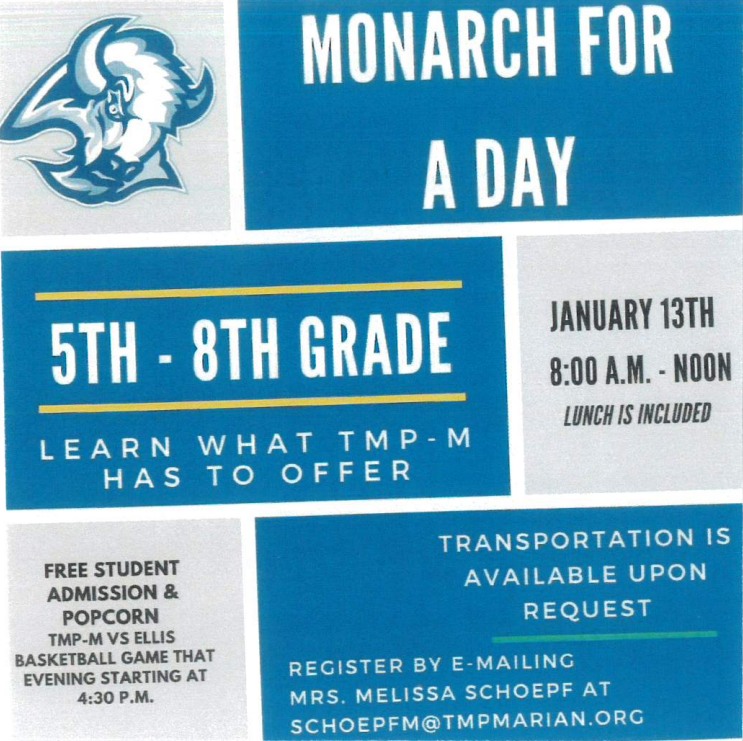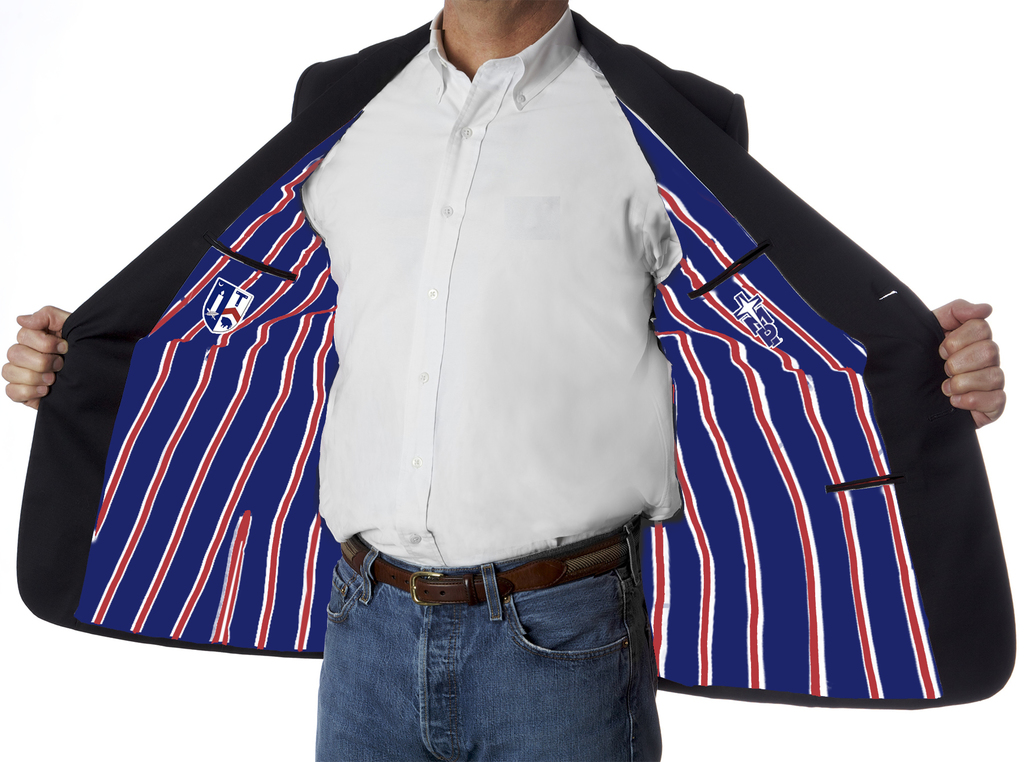 Check out this TMP-M customized blazer available for students. It also makes a great addition to any alumni or TMP-M supporter's wardrobe. We've partnered with Blaze-In to offer the entire TMP-M community a custom blazer. Check out the link here to learn more and order,
https://blaze-in.com/flyers/campaigns/tmpm_3955_v04102022.html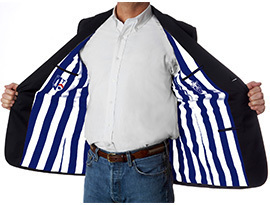 If anyone needs curbside service for a Soup Supper carryout order, please call 785-639-4671. Thank you for your support and God bless! Park at the west side of the school building for this service.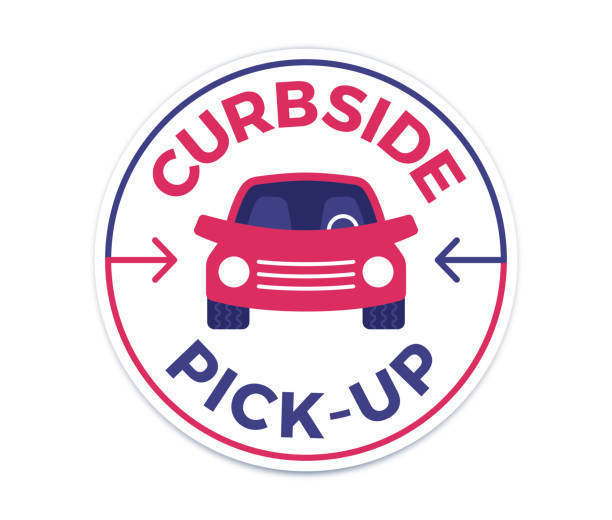 What's for Dinner? We have the answer! TMP-Marian PTF is holding the annual soup supper today starting at 4 p.m. and going until 7 p.m. Carryout is available!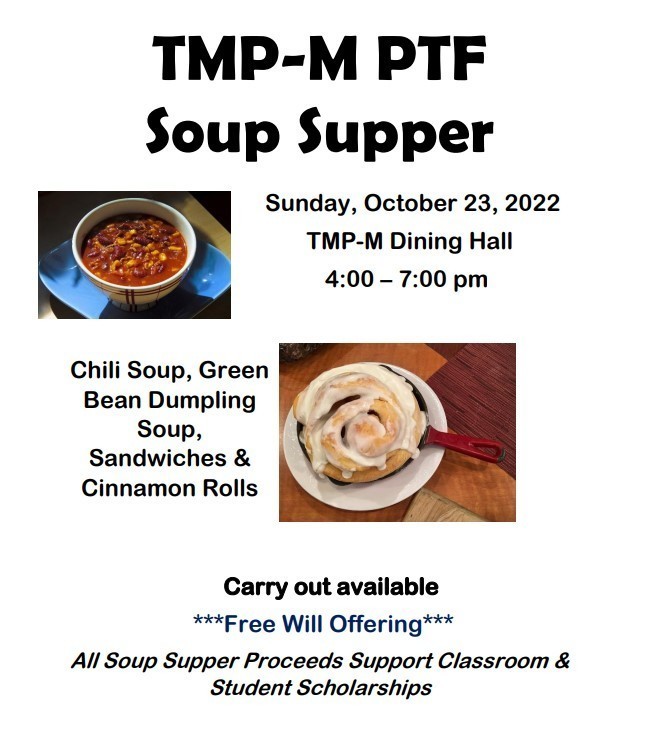 Senior Rebekah Schroeder earned Commended Scholar status from the College Board. In October of their junior year, TMP-Marian students take the Preliminary SAT National Merit Scholarship Qualifying Test. Based on their scores, students may qualify for scholarships and academic recognition. Only the top 1.4% of test takers are able to achieve Commended Scholar, Semifinalist, or Finalist status. That's only 50,000 out of over 3.5 million students nationwide! Congratulations to Rebekah, her family, and her teachers for achieving this honor! Rebekah will be recognized among the high school student body and have her name added to the plaque in the main entryway along with the other Monarchs who have achieved Commended Scholar, Semifinalist, or Finalist distinction.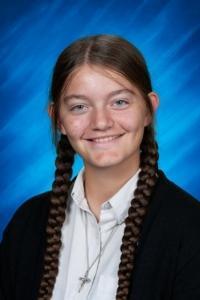 Thank you to our generous sponsors for the 5k for a Cause Color Run this Saturday. All proceeds will be donated to the Catholic Charities of Northern Kansas. The Color Run is a Senior Capstone Project, presented by Sophia Allen & Julianna Baalmann. Sponsors include: Hays Nutrition, Paul-Wertenberger Construction, Herman Physical Therapy, Cornerstone Orthodontist, Thirsty's Brew Pub and Grill, FIT 159, Jeff Pinkney CPA, and First Care Clinic.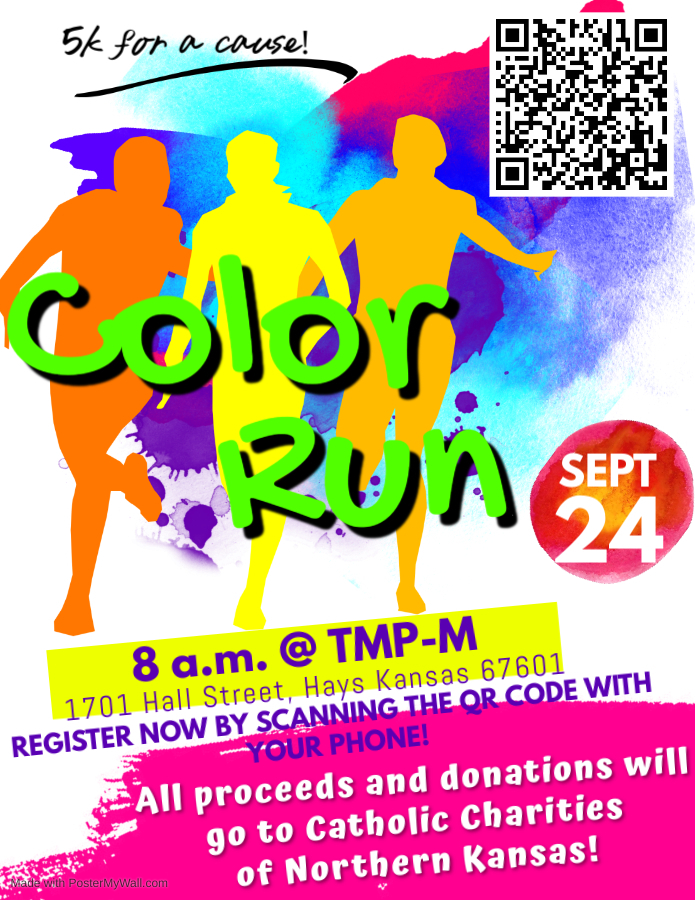 Roll Tiges! We are heading to Lewis Field on September 24th to cheer on the Tigers as they take on Missouri Southern. We will provide BBQ from Big Smoke from 4-6 PM and tailgating at spots 90-93! Thanks to our sponsors Dustin '04 and Emily Washburn, and Phill Kuhn '05, owner of Big Smoke BBQ and The Press here in Hays. Please click the link below to sign up if you plan to attend. See you at the Fort!
https://form.jotform.com/221436706482153
TMP-M Homecoming is just around the corner! Congratulations to our 2022 Grand Marshals, Gene and Theresa Flax.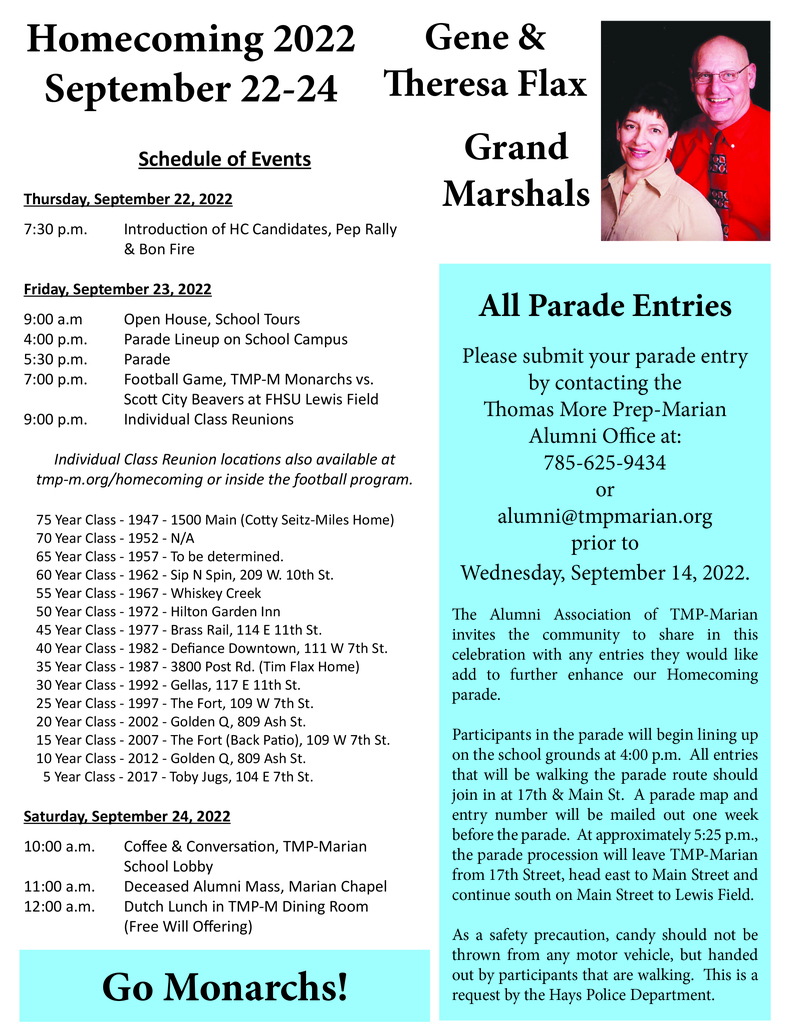 Join us for the 2nd annual Hays Catholic Schools FHSU tailgate on September 24th. Help us cheer on the Tigers as they take on Missouri Southern and enjoy some free BBQ from Big Smoke. Thank you to Dustin '04 and Emily Washburn for sponsoring. We will see you all at the Fort!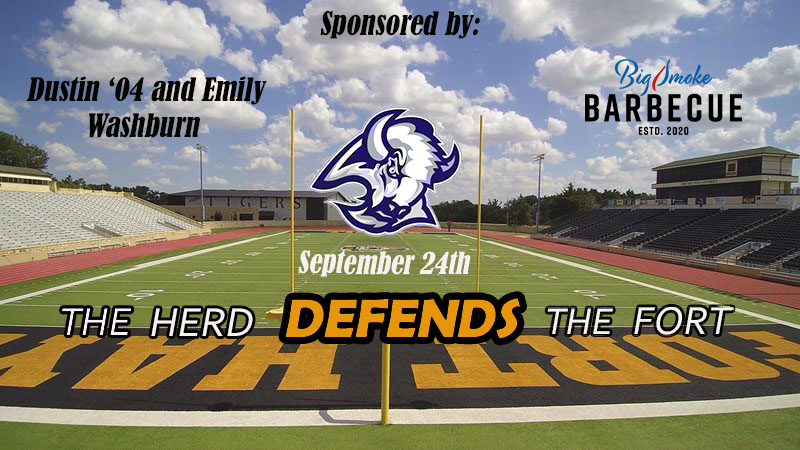 Something new about this year's Hays Catholic School Back 2 School Bash put a smile on Lana Schmeidler's face, a 1st grader at Holy Family Elementary, and many other kids last Friday night! Thanks to one of our amazing sponsors, Sunrise Agribusiness Solutions, the snow cones were free! Thanks so much for your continued support and for helping us make the event a success.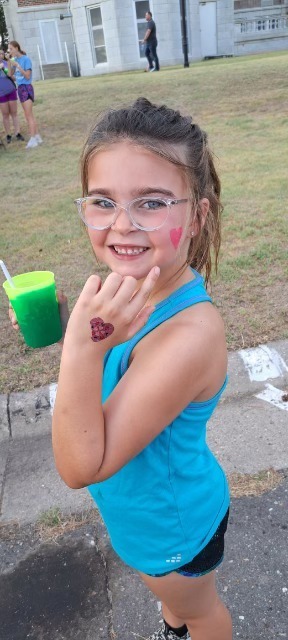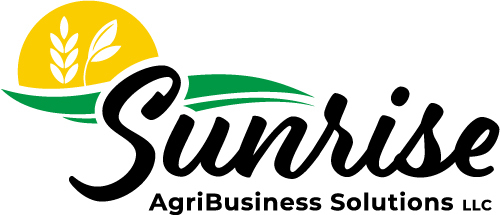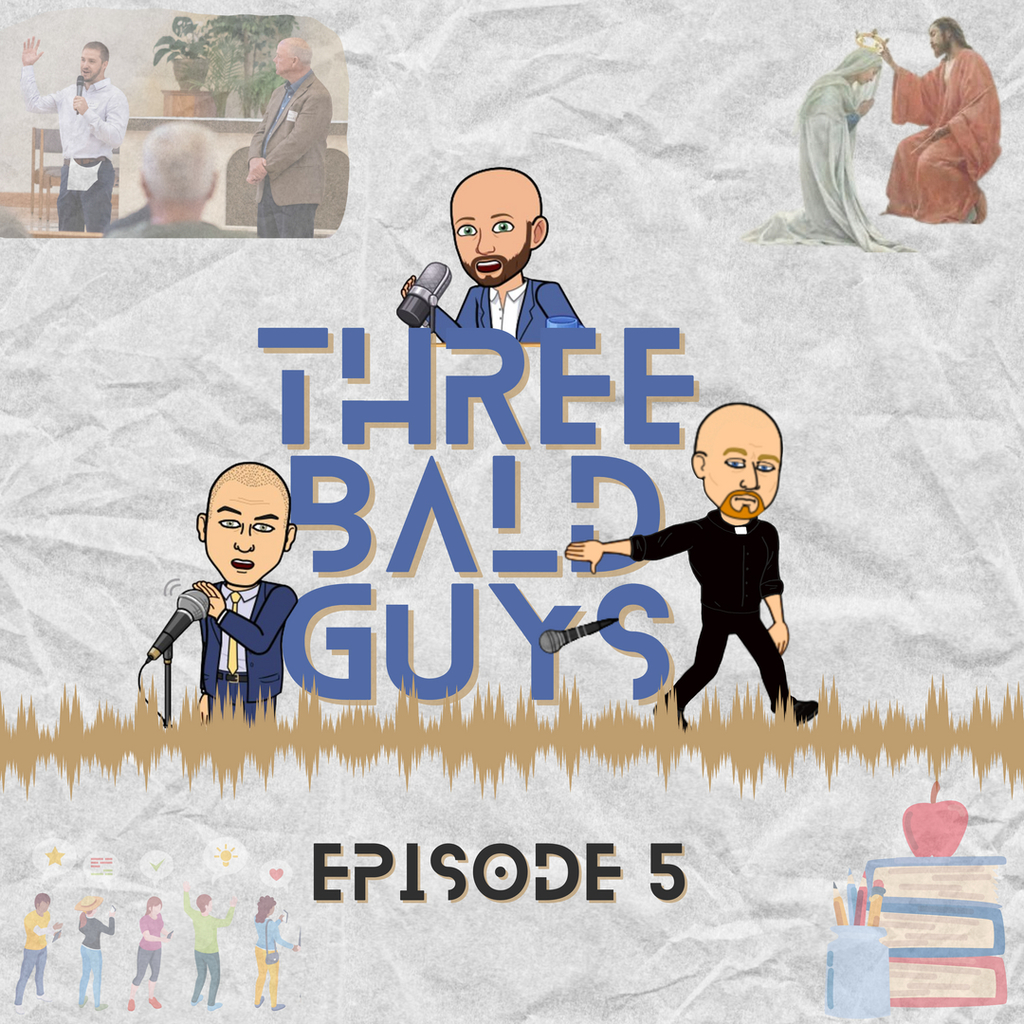 Lost Key Clue #10: Amazing accelerating aluminum ain't it

Lost Key Clue #9: Ararat's "Ark" is a ways away

Lost Key Clue #9: Ararat's "Ark" is a ways away

Lost Key Clue #8: Kites and kids kibitz

Lost Key Clue #7: Intraurban, interior, in-town

Lost Key Clue #6: Thoroughfare takes trekkers toward traverse

Lost Key Clue #5: Please put pet perishables in prescribed pots